Et af de nye TV shows jeg glæder mig meget til er "Dollhouse" fra instruktøren Joss Whedon (Buffy, Angel og Firefly m.m.). Ideen lyder sjov og spændende, og med flere af de samme folk som stod bag Buffy med, så tror jeg der er god chance for det bliver et hit. Læste også at de havde fået ret gode penge fra FOX til produktionen.
Der er desværre ikke nogen dato for hvornår det første afsnit kommer, men ifølge rygterne er manus færdig og de begynder produktion meget snart.
Echo (Eliza Dushku) is a young woman who is literally everybody's fantasy. She is one of a group of men and women who can be imprinted with personality packages, including memories, skills, language?even muscle memory?for different assignments. The assignments can be romantic, adventurous, outlandish, uplifting, sexual and/or very illegal. When not imprinted with a personality package, Echo and the others are basically mind-wiped, living like children in a futuristic dorm/lab dubbed the Dollhouse, with no memory of their assignments?or of much else. The show revolves around the childlike Echo's burgeoning self-awareness, and her desire to know who she was before, a desire that begins to seep into her various imprinted personalities and puts her in danger both in the field and in the closely monitored confines of the Dollhouse.
Dollhouse på TV.com her
.
Dollhouse på TVrage.com her
.
Joss Whedon Wiki her
.
Hans IMDB er her
.
Og Whedonesque.com, hans egen blog er her
.
Eliza Dushku - Unknown Photoshoot x6HQ: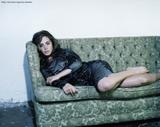 Eliza UPS: (Ved ikke om det er en fake...)